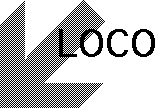 A composition microworld in Logo
LOCO is a system for (music) composition. It is built on the general programming language Logo and was developed between 1984 and 1988. It can be used as a workbench for experimenting with musical structures, both for beginners and professionals. Here is an example of its use, making a number of trills:
ALEATORIC "PITCH [60 62 64 65 67 69 72]
COLLECT "PITCHSET "PITCH 2
ITERATIVE "REPEATED.PITCHSET "PITCHSET 4
ORDERED "TRILL "REPEATED.PITCHSET
REPEAT 36 [WRITE [NOTE 0.5 TRILL 1]]
PLAY
The LOCO manual (most recent version, part of POCO) contains more sound examples.
More on LOCO.
---
Interview in BUMA-STEMRA Magazine Oktober 1987 (pdf) [Dutch].
More on the relation between this work and the current research (Interview) [Dutch].